St Andrew's Hall provides accommodation and training facilities for the Church Missionary Society of Australia (CMSA). The project involved a complete renewal of the original 19th century house and the delivery of a new, state-of-the-art student accommodation and a teaching building. The heritage components of both St Andrew's Hall and the stable building also needed to stay as true as possible to the original construction.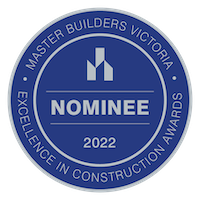 client

Church Missionary Society of Australia (CMSA)

Location

Parkville, Victoria

Architect

JCB Architecture

Status

Complete
EXCEEDING CLIENT EXPECTATIONS
Clear communication of project milestones and a strong commitment to delivery played a crucial role in helping Kapitol Group to stay within CMSA's budget, and to achieve the timeframes and vision for overall quality, despite the challenges and setbacks of the COVID pandemic.
The project involved the use of pre-cast and modular construction with much of the modular elements, including the façade and window and steel structure elements, completed offsite. This optimised timeframes, ensured quality of materials, increased safety, reduced crane time, and expedited works overall.
The St Andrew's Hall redevelopment is an outstanding legacy, designed to house and train church missionaries for many years to come. Kapitol Group completed facilities of the highest quality that are fit for purpose and built to last.
Fast Facts
---
20

student accommodation apartments

Heritage

restoration of original building

Thermal modelling

& best practice building envelope achieved; no cooling system in apartments required

600sqm

laser cut equitone cement sheet cladding

375sqm

of laser cut slate refurbished

231 (MJ/m2/yr)

energy consumption (compared to 258 (MJ/m2/yr) reference building )
Challenges
As the heritage house restoration unfolded, many 'unknowns' surfaced, requiring significant design changes. For example, when Kapitol Group pulled up the floor and roof of the heritage house and cut openings into existing brick work, it quickly became apparent that the old structure required redesigning.

Regular COVID lockdowns and restrictions also disrupted the project's timeline and limited the amount of people allowed onsite at any one time. This required careful logistical planning and consideration by project leaders.
Our Approach
Despite time constraints due to COVID, Kapitol Group were able to successfully work around the challenging existing conditions and redesigned elements, as latent conditions were uncovered.

To overcome COVID setbacks, project leaders decided to finish the new, main building during the lockdowns with only 20 people onsite and save the more complex heritage house works for when site numbers increased again. The team managed to build the smaller building in 3 months, despite unexpected issues in the structure. This reconfiguration of resources meant Kapitol Group never had to put in a notice of delay with the client.